Suspense – Poster – print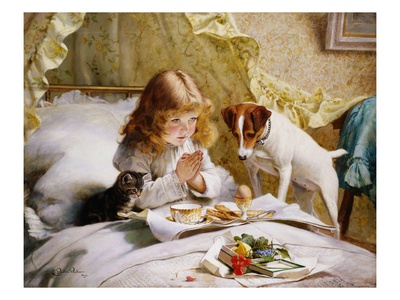 Does your little girl love animals, like mine daughter does?
My daughter loves all animals especially cats.  So we have five cats! One of them, Tigie, also looks like the kitty on this poster!
Perhaps there is a bad storm outside, or perhaps she is just asking a blessing her food.
This Giclee art is called Suspense! and is available at art.com. Although there isn't anything scary about it.
Perhaps the suspense lies on the secret prayer this little girl is offering to God. Is she just thanking God for the lovely breakfast on her lap? or is she perhaps praying for her Mom and Dad? Or could it be a prayer for the safe arrival of her grandparents who coming for the holidays?
No matter what the prayer is for, it is all lovely! I evokes a scene of coziness, and the simplicity of a child's faith.
Every little detail of this print shows amazing love.
 The love of the animals for the little girl, and her love for them.  The love of a father who provides well for his little princess.  And the abound love of a mother who provides nurture and comfort, nourishment and great care for her beloved daughter.
To me, this art print depicts what is in all mother's heart desire.  As mothers we desire to provide me for out little girls that is filled with enchanted experiences.  And that dream starts in our little girl's bedroom, the way we car for it and the way we decorate it.
Perhaps not all mothers can provide a perfect fairy tale bedroom to her daughters, but we certainly can provide the dream.  And sometimes the dream is all that matters for things to turn out just like fairy tale in their memories of home.
As they grow up and become moms themselves, our daughters will continue our dream and will pass them on to their little girls, and we will enjoy it and be just as happy with the result.
You'll find the Suspense giclee art at Art.com.
You can  request it to be mounted in a beautiful frame of your choice, if you like, so, this  giclée print, by Charles Burton Barber can help you provide that dream bedroom for your daughter.
This high quality piece of art print offers beautiful color accuracy.
Giclée (French for "to spray") is a printing process where millions of ink droplets are sprayed onto the paper's surface creating natural color transitions. The high-quality paper (235 gsm.) is a great option for framing with its smooth, acid free surface.
About the Artist:
Charles Burton Barber (1845 – 1894) was considered one of England's premier Victorian artist genre painters.  He specialized in realistic, sentimental portraits of dogs with children.
After studying at London's prestigious Academy Schools, Charles had the privilege of painting Queen Victoria's favorite canines for almost 25 years! He also painted the pets of other dignitaries, including the Prince of Wales.
Barber's talents extended to illustrating children's books and photography, as well. He regularly exhibited at the Royal Academy, and was honored with many awards.
And I would love noting more than to adorn my child's bedroom wall with this art duplication print by Charles Burton Barber.